a permanent welded
jewelry experience
Let's get your Spark Collection started! Choose from our curated selection of 14K solid yellow or white gold chains that can be crafted into beautiful bracelets, necklaces, anklets and rings. Join us for a permanent welded jewelry experience by hosting a private party or booking an appointment at one of our many pop up events!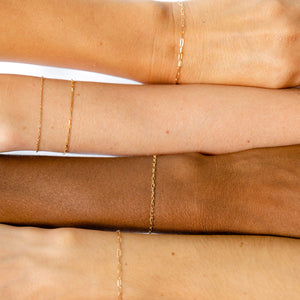 Our Next Pop Up
We're constantly popping up at local businesses offering 20 minute appointments for you to start or add to your Spark Collection. 
Appointments go live 72 hours before each pop up and sell out quick - so don't wait to snag your spot! Click the button below to see what sign ups we currently have live. Don't see any? Stay tuned, we will be announcing another pop up soon!
Follow us on Instagram @thesparkcollection_ for sneak peeks as to where you can find us!
book now
Join the Team
The Spark Collection is looking for self-motivated, hardworking, creative, connected + fun women across the country to join our growing team of Spark Specialists!
APPLY NOW
My experience has been amazing!

Their enthusiastic personalities are so fun to be around. The jewelry is high quality jewelry and I always get so many compliments! I can't wait to add to my Spark Collection!

— 

Whitney W.
I absolutely love my collection.

My Spark bracelets are the perfect permanent accessory to every outfit!  The Spark girls are the dream team, and I love my bracelet stack.

— 

Maggie I. 
It's like the ultimate friendship bracelet.

Dainty, beautiful, timeless staple pieces that mark such fun memories with friends. I love the Spark Collection and having the Spark Gals at an event is essential. Worth it every time.

— 

Natalie S.
Host a Private Party
We love getting to be a part of your special events, from major celebrations to wine nights with the girls. All we require is a minimum purchase of five items and we'll bring the rest to you!
Let's Find a Date